7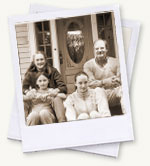 We have lived in the East Skinner Butte Historic District since 1983. We bought our home in Eugene's first historic district just a couple of years after the district's formation. The neighborhood was not nearly as desirable as it is today. Properties were run down. The Campbell House had been vacant for almost 20 years and vandalism and drug busts were a regular occurrence.
As only the third owners of our 1926 Colonial bungalow, we were fortunate that it had not gone through numerous remodels. Even so, over the years we have made many changes to our property — maintenance, remodels, landscaping, and rebuilding our barn. City staff made suggestions that improved our designs and increased our satisfaction with our final products. The State's 15-year property tax freeze for historic properties enabled us to make improvements without having to pay higher property taxes as the assessed value increased.
Owning an older home, historic or not, presents maintenance challenges — settling foundations, repair/replacement of old sewer, water and electrical lines, insulation, and rotting wood. None of our maintenance projects have required City permits. Over the years, we made changes to our home to accommodate a family. When we remodeled our kitchen and upstairs bathroom back to a 1926 design, we were surprised to learn that there were no permit requirements for our interior remodels. The City reviewed the design when we added a back porch and deck, but there were no historic permit requirements because the design was compatible with our Colonial bungalow. The only permits required were the standard building permits to ensure the structural development met the Building Code.
However, changing the upstairs deck rail, moving exterior French doors, and adding a bathroom window, which could be seen from the street, required a review by City staff to show that the changes would meet the City alteration criteria to maintain the historic look of our home from the street.  The process went smoothly and our proposed changes passed City review with no additional permits required.
Historic structures commonly do not meet current setback requirements. The historic designation of our circa 1892 barn allowed us to rebuild/restore in the same footprint even though it sits on the property line.
A final comment about living in an historic district: our neighborhood received special consideration to minimize impacts from the Ferry Street Bridge improvements. Had we not had this special status, the neighborhood impacts would have been much greater.
Today, the Historic District is stable and thriving. Most homes are well-maintained and many have had significant improvements. The City has been a helpful partner as the neighborhood has changed, providing design advice about repairs and remodels, and supporting livability issues such as street closure, parking, and impacts from the Ferry Street Bridge. Our family is proud to be a part of keeping the legacy of this area alive for future generations.